Options include:
Internal lighting modification to flight instruments, communication and navigation systems.

Large scale

back-lit panels

that illuminate the entire instrument panel using NVIS white lighting to be able to discern colors

Large scale back-lit panels that illuminate engine instruments.

External eyebrow lighting that is NVG compatible.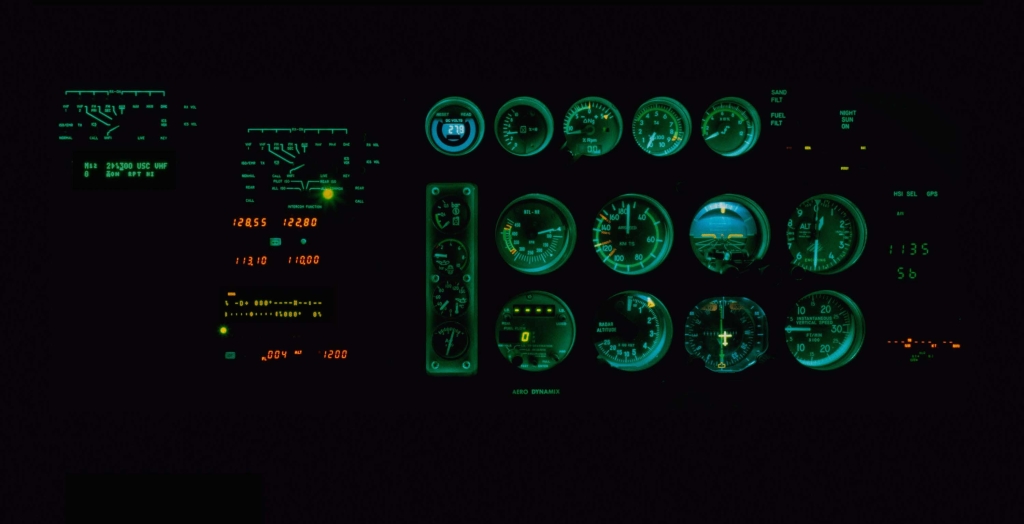 Internal lighting modification provides the best quality lighting. NVG filtered lamps are larger than standard lamps and room for the larger lamps may need to be created. No aircraft wiring modifications are required if the instrument is modified internally.
Bezels or post lighting can be added to illuminate individual instruments. The post light protrudes from the instrument panel and the bezel surrounds the instrument and illuminates the face of the instrument. Wiring must be added to provide lighting power to the post lights and bezels. Post lights can create some visual blockage. Eyebrow type bezels eliminate some of the visual blockage problems. For more information on post lights and drawings please contact us (reference Aero Dynamix P/N 1240 and 1241 post light drawings).
NVG flood lighting can be used to provide an inexpensive NVG cockpit solution. However, shadows and uneven lighting will cause readability problems unless installation location is chosen carefully. This is not the optimum in lighting options. For more information on flood lighting and drawings, please contact us (reference Aero Dynamix P/Ns 1248, 1247, and 1246-99).
Radios and control heads normally have back-lit panels, annunciators and/or electronic displays.
Back-lit panels can be modified but typically are too thin to accept NVG lamps. Aero Dynamix will design, build and replace these panels or design panels to customer specifications. Or the internal lighting can be turned off and the bezel floodlit. Type 3 panels can be modified with MS25010 NVG lamp holders. Annunciators and/or electronic displays must be modified to be NVG compatible but must be sunlight readable. Annunciator modifications consist of replacing the colored plastic with the correct color NVG filter (green, yellow, or red). Electronic displays must be filtered according to the type of display (CRT, LED, LCD, etc). Filter material is selected to optimize the NVG performance without degrading daytime viewing.
Cargo Bay/External Lighting
Cargo Bay lights can be modified or can be replaced with NVG modified Dome Lights. External lighting can be modified to provide IR illumination not visible to the human eye but completely visible to the NVG user. This covert capability is an excellent option for surveillance work.
Approved Modification Procedures
Aero Dynamix, Inc. has over 800 FAA approved modification procedures for cockpit avionics, cockpit and cabin interior lighting and external lighting NVG modifications. All drawings and modifications are reviewed and approved by a Designated Engineering Representative (DER). All modification procedures are listed on the FAA Operations Specification for modification of lighting in accordance with the approved modification procedures.