Illuminated Edge Lit Panels (ELP's)
Illuminated Edge Lit Panels for Aircraft are manufactured in-house with capabilities that include water cutting, Computer Numerical Control (CNC) machining, silk screen and laser marking in addition to a robotics paint facility. Aero Dynamix laser etched Illuminated Edge Lit Panels or ELPs provide the highest quality markings available using high resolution optics. Products include:
non-NVG ELPs (white, blue-white, etc.)
Panels with removable circuit boards or embedded lamps.
Control heads
Consoles
Circuit breaker panels
Bezels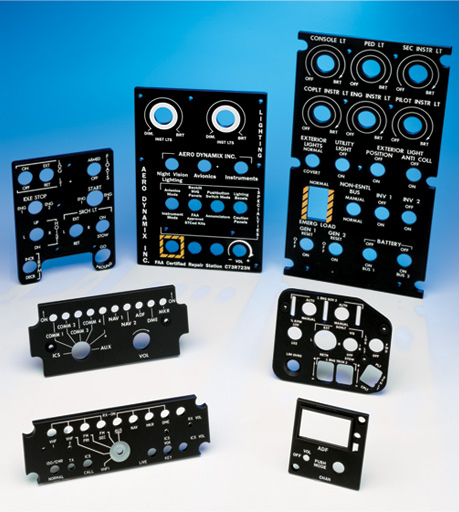 In addition, we can produce customized panels to customer specifications and refurbish existing ELPs to "new" condition.
All light panels manufactured by Aero Dynamix are done in accordance with FAA approved processes. In addition, ADI has achieved QPL-7788 certification from the Defense Logistics Agency (DLA) under MIL-DTL-7788 for Edge Lit Panel manufacturing.