Welcome to Aero Dynamix Inc. – Cockpit Lighting, Aircraft Instrument Lighting, NVG Lighting
Founded in 1994, Aero Dynamix, Inc. is the industry leader and principle innovator of integrated Night Vision Imaging System (NVIS) lighting solutions for civil and military aircraft. Focused on quality, service and customer satisfaction, ADI specializes in complete and fully integrated NVIS lighting solutions for aircraft designed to achieve a balanced cockpit that is optimized for both nighttime and daylight readability performance. Aero Dynamix now holds over 30 multi-ship NVG Supplemental Type Certificates (STC's) covering over 40 different aircraft model types. This in addition to numerous EASA and other foreign STC validations positions Aero Dynamix at the top of its field in NVG design and certification. Aero Dynamix has now certified more than 1200 NVG cockpits worldwide. Aero Dynamix' staff of approximately 100 represents the complement of experienced night vision professionals necessary to perform every aspect of night vision integration for your aircraft. In-house staff includes engineering, R&D, manufacturing, quality assurance and certification.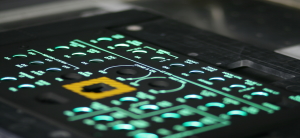 All illuminated panels produced by Aero Dynamix are manufactured in accordance with MIL-DTL-7788 and or FAA approved process specifications.  We can produce customized MIL-DTL-7788 Illuminated Edge Lit Panels, to customer specifications and refurbish existing ELPs to "new" condition. Aero Dynamix laser etched Illuminated Edge Lit Panels or ELPs provide the highest quality markings available using high resolution optics. Cockpit Edge Lit Panels are manufactured in-house with capabilities that include water cutting, Computer Numerical Control (CNC) machining, silk screen and laser marking in addition to a robotics paint facility.
Click here to see more!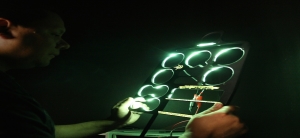 Aero Dynamix is the only Aircraft  lighting company that offers integrally lit Instrument Panel Overlays that provide white or NVIS compatible lighting to a group or cluster of instruments.

Instrument Panel Overlays are an ideal solution for instruments that can be rear mounted and for customers that require balanced lighting across a group of instruments.

Overall cost effectiveness along with excellent NVG and Non NVG lighting characteristics make overlays a preferred instrument panel lighting solution.
Click here to see more!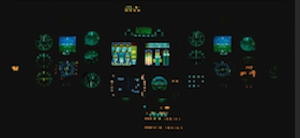 As the leaders of Night Vision Imaging System (NVIS) Cockpits for all types of aircraft our NVG modified cockpits do not compromise the factory warranty! Our FAA approved NVIS Modification installs a fully integrated (no switching required) NVIS compatible lighting system that is usable during all phases of operation, day, night and NVG because to a pilot flying fast "every second counts!"
Click here to see more!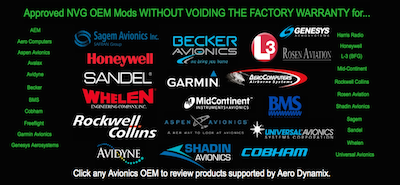 Aero Dynamix is the leader in Modifying Avionics for Night Vision! Our NVG OEM Mods DO NOT VOID THE FACTORY WARRANTY for Avionics Manufactures such as Garmin Avionics, Honeywell Avionics, Rockwell Collins Avionics and many more!
Click here to see more!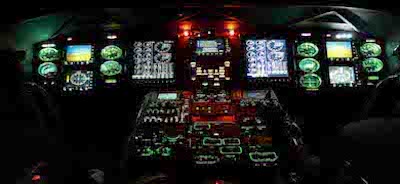 We are the leading innovators of Night Vision Imaging Systems (

NVIS

) for all types of Aircraft.

Our cockpit lighting systems do not compromise the factory warranty.

Aero Dynamix is the preferred NVG provider for most new aircraft production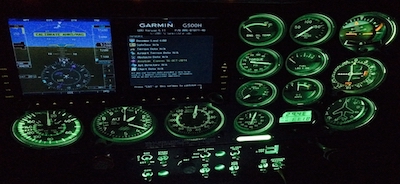 Internal lighting modification to flight instruments, communication and navigation systems. Large scale back lit panels that illuminate the entire instrument panel. External eyebrow lighting that is NVG compatible. Bezels or post lighting can be added to illuminate individual instruments.
Illuminated Edge Lit Panels (ELP's) & Overlays provides effective and crucial lighting for aircraft whether it is NVIS modified or standard lighting.  This approach is good for lighting instruments, placards, and aircraft related information.
Aero Dynamix is the approved NVG mod center for new aircraft production. NVG mods do not compromise many manufacturer's warranties.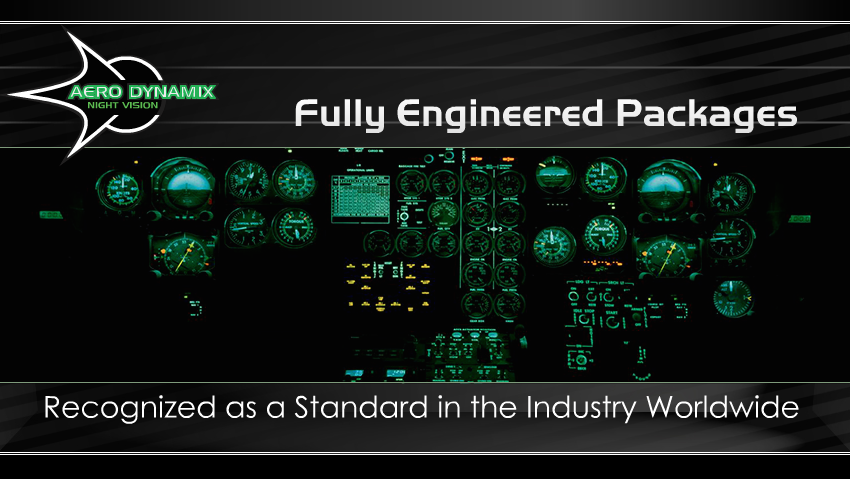 [/fusion_builder_column_inner]
In business over 20 years specializing in NVIS lighting solutions.

Aero Dynamix is the preferred NVG provider for most new aircraft production. Our NVG modifications do not compromise the manufacturer's warranty.

Our 23,200 square foot facility incorporates the very latest in high tech manufacturing.

Aero Dynamix is an FAA/EASA  CERTIFIED 145 Repair Station (CRS# C73R723N & EASA.145.6260).  Aero Dynamix is also the holder of a part 21 PMA (parts manufacturing approval) for thousands of aircraft products.