Goggle Sales, Recertification & Repair
As an FAA approved Repair Station Facility (C73R723N) with a certified staff of technicians and a fully equipped repair center with test equipment and technical library, Aero Dynamix offers NVG recertification and repair for the following NVG systems.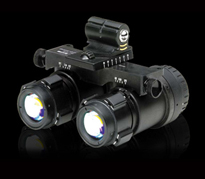 L-3 M949 – AN/AVS-9
ITT F4210 Series
ITT F4949 Series
NVG manufacturers require that a 180-day inspection be performed and the Federal Aviation Administration (FAA) has issued guidance recommending the inspection, certification and maintenance of night vision devices every 180 days. Our technicians are certified to provide the required maintenance and inspections, and we adhere to all necessary requirements to inspect, test and evaluate NVGs in accordance with manufacturer's maintenance procedures.
Aero Dyamix offers a quick 48 hour turnaround from receipt of equipment on "180-day NVG inspections". Multi-year service agreements (1, 3, or 5 year) are available for these inspections.